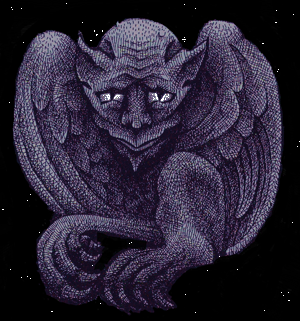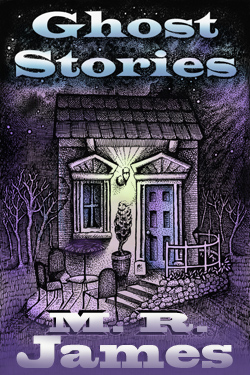 The Ghost Stories of M. R. James
M. R .James has written some of the most original and influential short stories in literature. With his sparse and clear style, harmless events and traits are combined into sudden, ghoulish outcomes. Strange, unknown things are unexpectedly touched before they are even seen. And bizarre occurrences are slowly forced to a frightful conclusion producing what James refers to as a breathless, "pleasing terror".
In "The Mezzotint", a picture keeps transforming, revealing clues to a crime that has been or could possibly be committed. When the mystery is finally solved, the picture stops changing.
In "Mr. Humphreys And His Inheritance", an old garden maze, becoming an obsession, challenges Humphreys' logic, senses, and sanity. Emerging from an infinite hole in his map of the maze appears a small burnt human form "with the odious writhings of a wasp creeping out of a rotten apple."
When the wicked sorcerer Karswell in "Casting The Runes" places his hand on the protagonist's shoulder, the sudden violation of personal space can make one's flesh creep. And at night, reaching under his pillow for his watch, the unlucky groper brushes against "a mouth, with teeth, and with hair about it, and, he declares, not the mouth of a human being."
In the scene in "O Whistle, And I'll Come To You, My Lad", a university professor on a golfing holiday is stalked by a blind shuffling figure in white that rises from the spare bed in his room and thrusts into his face "a horrible, an intensely horrible face of crumpled linen."
The inhuman hooded figure who waits expectantly at the crossroads is the assistant of "a man in a long black cloak and broad hat." This malevolent form projecting a "tentacle of a devil-fish" is a bizarre hybrid ahead of its time in "Count Magnus".
Different from the classicism of Arthur Machen, the logic and beautiful macabre of Poe, or the cosmic menace of Lovecraft, M. R. James redefined the ghost story by having horror naturally grow out of an ordinary modern environment. Not only have his evocations become the foundations of the English ghost story, but has penetrated into today's treasury of "Weird" fiction.
Collected Ghost Stories by M. R. James
1904, 1911, 1925
405 pp., Oxford University Press, UK edition 2011
(different cover art © Wil Dewey shown above)
Return to The Bookshelf